This week I'm excited to co host the Kid Tested Linky with The Giggles Family blog for useful family reviews.
Reviews of products are really important where kids are going to be using them.
Knowing which children's products work the best, last well and are new on the scene can help families select their next new purchase correctly and with reassurance.
The Giggles Family believe the best testers are kids! They tell it like it is and will give new things a thorough checking out! So if you're a blogger who's reviewed a new product and your child has liked it (or it's benefited your baby), or you've seen a helpful review by someone else, feel free to add it below. It can be anything from a useful toy, kids bedroom accessory, children's clothing to a recipe.
The more the merrier.
I am linking up with my Braun thermometer review.
The Giggles Family
latest review of a Cosatto Yo Pushchair is here.
Our favourite #KidTested review from the last round was
Doctomum's
Little Tikes Cozy Coupe.
If you tweet @thegigglesblog or @ourseasidebaby with the #KidTested hashtag, we will retweet it to our combined 6000+ followers.
If you fancy grabbing the badge below to add to your post or sidebar, feel free.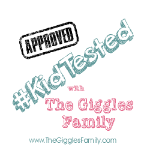 If you would like to host the Kid Tested Linky please get in touch with the The Giggles Family blog.
Disclaimer: The Giggles Family cannot be held responsible for the content of other peoples websites or the reliability of
their
reviews.
The Giggles Family blog says: